---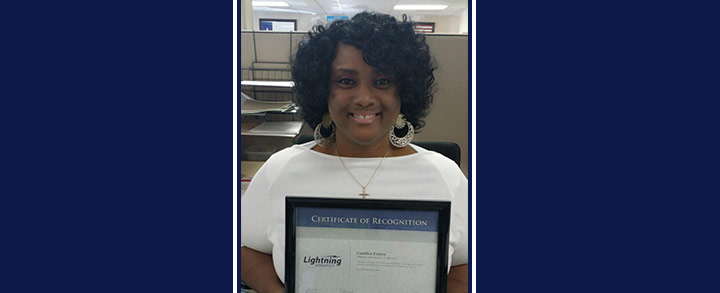 Congrats to Cynthia Esters for being recognized as the Employee of the Quarter for the 2nd Quarter of 2014.
Cynthia will have her three year anniversary working in the office with Lightning on 9/30/2014.  Prior to joining us in the office Cynthia drove a stake bed where your commit to excellence earned her an invitation to get off of the road and join us in the office. Cynthia has proved to be reliable, trustworthy, and capable of handling multiple tasks thrown her way.  She does things for the company behind the scenes for our management team that most everyone else never really knows about but gets to benefit from.  She is an invaluable asset to the company.  She is the first person our visitors see when they walk through the door.   Her hospitality and cheerful disposition, which is infectious, makes our visitors feel welcome.
Please join us in congratulating Cynthia.  She has received a  framed Certificate of Recognition, a formal letter of recognition from Executive Management, a $500 cash award, an 8 – hour paid day off, and a place on our Lightning's Finest Wall of Fame.